FIFA 24: How To Build The Best Center Back In Your Club In EA FC 24?
2023-09-25 09:39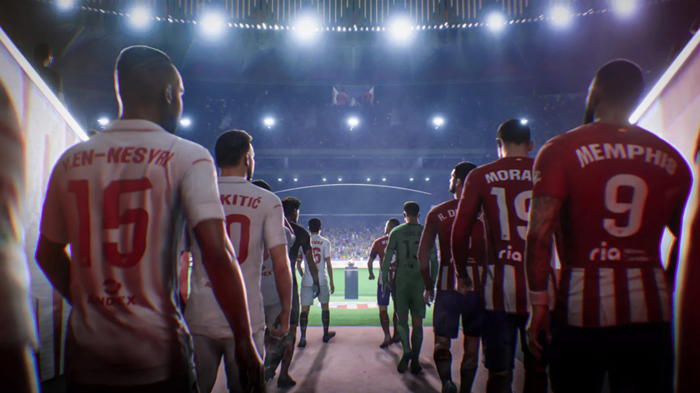 The latest club mode currently attracts many players, especially those who spend a lot of energy in the mode of competing for the title of the best player in a specific position. And defense plays a huge role on the football field, so how do you have the best CB build? So that opponents will not dare to get close to the goal? Let's take a look at what professional virtual players need!
The centre-back must be a solid wall, preventing the opponent from getting close to the goal. Physical attributes are a must first when creating a player profile, so what should a centre-back in an EA FC 24 club look like?
Physical Properties
This attribute can push opponents away at certain moments, but will not lack mobility and agility. The center back should be of a good height and weight to be able to run towards the ball when needed. Defenders preferably between 6'0" and 6'2" tall, which is roughly equivalent to 1.83m - 1.88cm. If the centre-back is too high, it may only cause harm in certain situations. Weight should be between 170 and 185 pounds, which equates to 77 - 84 kilograms. It's important to stay nimble and be able to pivot quickly at any time.
In addition, players are not only required in terms of height and weight, but it is also important to improve his defensive and physical qualities. The central defender must be able to pass the ball, catch the ball, and run fast in order to intercept and counterattack in time.
Sprint Speed
If Quick Step PlayStyle is enabled, it is recommended that players upgrade this branch first.
Ball Control And Balance
These two characteristics directly affect a player's ability to control the ball, and such operations are important for players in any position. They are in the dribbling category, and players need to spend at least some skill points on these traits.
Interceptions
This is one of the most important qualities of a true defender. Because this ability to intercept the ball should be a priority as it will ensure disruption of the opponent's attack.
Standing Tackle And Defensive Awareness
Defensive awareness affects how quickly a defender returns to position outside of the area he is supposed to be guarding. So a standing tackle can stop an attacker from running towards your player, or take the ball away from the person trying to hold it.
Jumping & Stamina
These two attributes, which belong to the physical category, can directly affect the player's endurance and jumping ability. By improving a player's jumping ability, a player will be better able to pick out the ball as it crosses the goal line, and headers from corners closer to the opponent's goal will be more effective. Stamina affects how quickly a player tires, as they are crucial for centre-backs.
And there are currently a total of 34 PlayStyles that can be upgraded to PlayStyles+. In addition to the above, there are some more that the center backs in EA FC 24 need most:
Quick Step
As mentioned earlier when discussing the sprint speed attribute, this playstyle allows players to accelerate faster and faster. Use this style to immediately run towards your opponent.
Power Header
Power headers make better use of a player's head when playing in the air. This style of play will make the header more powerful and accurate, with higher aim, which directly affects the efficiency of corner kicks or simple passes.
Bruiser
The final playstyle is Bruiser, which makes the roll so powerful that your opponent will no longer look in your direction.
So with these, your best center back build will be superior to other players! Come and give it a try now.



Habib: I'm very satisfied, thanks FIFACOIN.COM. And I highly recommend this website if you want to get fc 24 coins or players.

The customer has bought:

FC 24 Coins

2023/12/03




Jason: Order ID: 3009xxxx. Have ordered many times from fifacoin and was satisfied with the delivery every single time. The withdrawal is very fast and safe, so it is the best place to get your fc coins.

The customer has bought:

FC 24 Coins

202

3

/

12/03




Alsaket: I was surprised at how easy and flexible it was for me to buy FC 24 coins at such a great price! Definitely recommend.

The customer has bought:

FC 24 Coins

202

3

/

12/03




Bartosz: I've been using FIFACOIN for my FIFA Coins needs, and I have to say it's the best one out there. Their service is incredibly reliable, with lightning-fast delivery of coins, so I've never had any issues with transactions. Otherwise, their customer service is top-notch, always ready to assist when needed. What sets FIFACOIN apart is their competitive pricing, whether you're a casual player or a serious FIFA enthusiast, I highly recommend FIFACOIN for all your coin needs.

The customer has bought:

FC 24 Coins

202

3

/

12/03




Gonzalez: I used this coin site many times. And I have to say my coins and players came to my account about 30 mins, absolutely amazing service. I would 100% recommend buying from them.

The customer has bought:

FC 24 Coins

202

3

/

12/04




Phillip: They have good customer service and I love the site! I will forever buy from FIFACOIN, very safe and fast. I even buy FC players from them, very proud that I'm a VIP customer.

The customer has bought:

FC 24 Coins

202

3

/

12/04




David: First of all you are not doing anything, you just wait for the coins to come to your account. They make the delivery easy and fast. The most important one is they are trustable.

The customer has bought:

FC 24 Coins

202

3

/

12/04




SameR: The best in the business. I tried this site yesterday night for the first time and they did an excellent service, I got my coins and players without any problems. Thank you FIFACOIN.

The customer has bought:

FC 24 Coins

202

3

/

12/04




Mickle: Was sceptical like many people but it worked exactly as promised. Especially the boosting! FIFACOIN customer service was responsive too. Will use again!

The customer has bought:

FC 24 Boosting

202

3

/

12/05




Alfaro: FIFACOIN is the safest website! I bought fc 24 coins and received it in under a hour. And then try the boosting, it is so fantastic! Definitely buy from here again.

The customer has bought:

FC 24 Boosting

202

3

/

12/05




Shukla: Great service and orders were completed very fast. Bought the boosting from them twice and the steps was easy.

The customer has bought:

FC 24 Boosting

202

3

/

12/05




Connkr: Very professional and helpful Thanks for your service in helping me out every step of the way. Whatever coins or boosting, they have really cheap prices and very nice and patient people.

The customer has bought:

FC 24 Boosting

202

3

/

12/05