FIFA 24: Five surprises included in the FC 24 new cover!
2023-07-12 08:30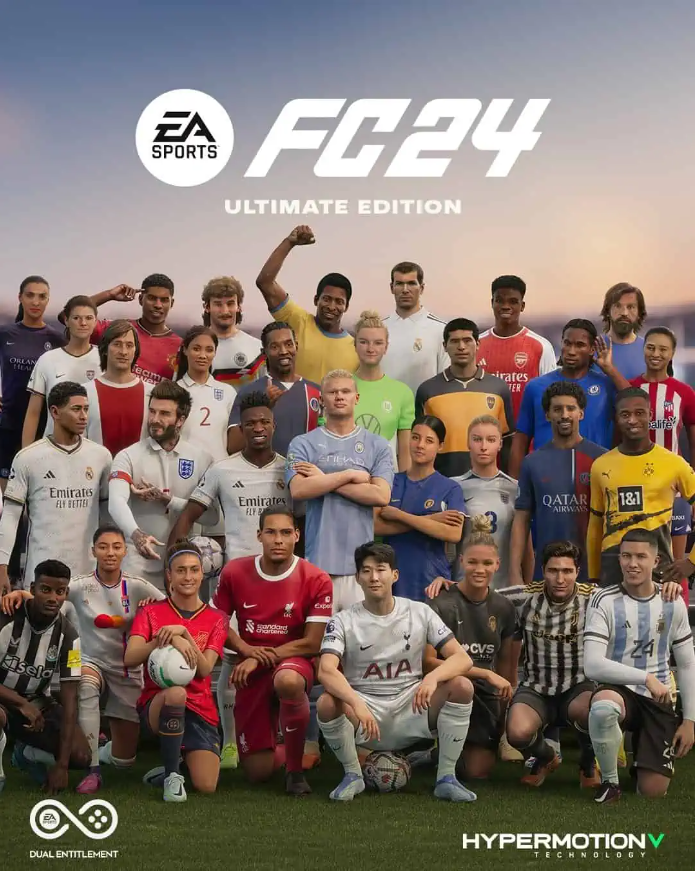 The cover of EA Sports FC 24 has been officially revealed. The art design of the ultimate version of the game may hide some points of interest for players, so guess that these surprises will have a major impact on the release of this game. The release of this brand new game has touched the hearts of tens of thousands of players, so more news will be released one after another. Here are five things to learn from the reveal of the EA Sports FC 24 Ultimate Edition cover.
The latest official information from EA Sports FC comes in the form of the Ultimate Edition cover art, which showcases famous football stars such as Beckham, Haaland and Pele, and is used to showcase the new Hypermotion V technology used in the game. Powerful function. And one of the most popular players in FIFA - Erling Haaland, the Norway and Manchester City powerhouse will appear front and center on the cover of the Ultimate Edition, which is likely to imply that Rumors that he will replace Kylian Mbappe as the newly named cover star of the game, and leakers have suggested that Haaland will be the successor, this new cover reveal seems to confirm that.
Players also noticed that former FIFA cover star Kylian Mbappe was missing. That doesn't mean Mbappe will be removed from the game, but it does suggest that there should be a high probability that the Paris Saint-Germain superstar won't be the cover star of FC24.
The revelation of this cover art raised some concerns as players considered using in-game scans on the cover. While some scans leave a lot to be desired, there are some impressive scans on the cover this time around. Famed English player David Beckham appears to be doing fine while using Hypermotion V technology, while Arsenal star Bukayo Saka could use another round in a facial scanning machine. Overall, this cover was used to showcase the power of the new Hypermotion V technology.
After EA Sports and FIFA parted ways cleanly, many believed that international teams might be leaving EA Sports FC 24. But this time the cover strongly suggests that international teams are front and center on the cover. England, Spain and Germany have all played before, but some players felt that these teams might be pulled out due to licensing disputes, but based on what is known so far, this does not appear to be the case, and EA Sports FC 24 players should be back again. Show your talents on the international stage.
It's rumored to be integrated in a way never seen before, so it's no surprise that many of the stars of the women's game are featured on this Ultimate Edition cover. So players can not only see past and present legends in the men's game, but also see the strong performance of female players in the women's game. It is rumored that they will also join the Ultimate Team mode soon. The cover also confirmed the arrival of Liga F, Spain's top women's league.
It's been rumored for a while, too, and players have replaced surprise with surprise at seeing some of the greatest and best female gamers at the forefront of EA's flagship series. This representational display is a huge step forward, not only in terms of reaching a wider audience, but also showcasing a new wave of football legends.
Finally, for now the game will be called FC24, EA Sports FC 24 may be used as a longer title, FC24 is most likely to be widely used, not too far from the classic FIFA name.
Looking forward to a new era is coming!



Habib: I'm very satisfied, thanks FIFACOIN.COM. And I highly recommend this website if you want to get fc 24 coins or players.

The customer has bought:

FC 24 Coins

2023/12/03




Jason: Order ID: 3009xxxx. Have ordered many times from fifacoin and was satisfied with the delivery every single time. The withdrawal is very fast and safe, so it is the best place to get your fc coins.

The customer has bought:

FC 24 Coins

202

3

/

12/03




Alsaket: I was surprised at how easy and flexible it was for me to buy FC 24 coins at such a great price! Definitely recommend.

The customer has bought:

FC 24 Coins

202

3

/

12/03




Bartosz: I've been using FIFACOIN for my FIFA Coins needs, and I have to say it's the best one out there. Their service is incredibly reliable, with lightning-fast delivery of coins, so I've never had any issues with transactions. Otherwise, their customer service is top-notch, always ready to assist when needed. What sets FIFACOIN apart is their competitive pricing, whether you're a casual player or a serious FIFA enthusiast, I highly recommend FIFACOIN for all your coin needs.

The customer has bought:

FC 24 Coins

202

3

/

12/03




Gonzalez: I used this coin site many times. And I have to say my coins and players came to my account about 30 mins, absolutely amazing service. I would 100% recommend buying from them.

The customer has bought:

FC 24 Coins

202

3

/

12/04




Phillip: They have good customer service and I love the site! I will forever buy from FIFACOIN, very safe and fast. I even buy FC players from them, very proud that I'm a VIP customer.

The customer has bought:

FC 24 Coins

202

3

/

12/04




David: First of all you are not doing anything, you just wait for the coins to come to your account. They make the delivery easy and fast. The most important one is they are trustable.

The customer has bought:

FC 24 Coins

202

3

/

12/04




SameR: The best in the business. I tried this site yesterday night for the first time and they did an excellent service, I got my coins and players without any problems. Thank you FIFACOIN.

The customer has bought:

FC 24 Coins

202

3

/

12/04




Mickle: Was sceptical like many people but it worked exactly as promised. Especially the boosting! FIFACOIN customer service was responsive too. Will use again!

The customer has bought:

FC 24 Boosting

202

3

/

12/05




Alfaro: FIFACOIN is the safest website! I bought fc 24 coins and received it in under a hour. And then try the boosting, it is so fantastic! Definitely buy from here again.

The customer has bought:

FC 24 Boosting

202

3

/

12/05




Shukla: Great service and orders were completed very fast. Bought the boosting from them twice and the steps was easy.

The customer has bought:

FC 24 Boosting

202

3

/

12/05




Connkr: Very professional and helpful Thanks for your service in helping me out every step of the way. Whatever coins or boosting, they have really cheap prices and very nice and patient people.

The customer has bought:

FC 24 Boosting

202

3

/

12/05