FIFA 24: 5 new skill moves confirmed for FC 24
2023-07-17 06:18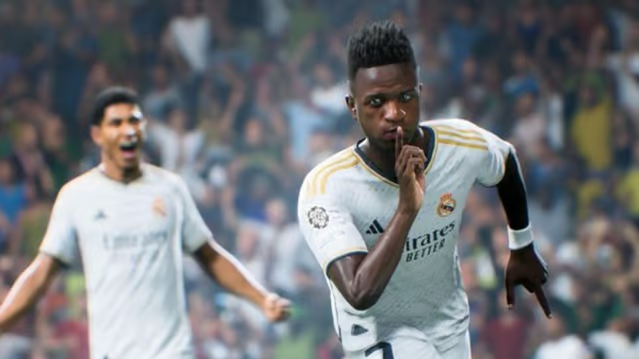 Whether in FIFA or EA FC, skills are always part of the absolute meta. Five new skills are currently shown in the EA FC 24 gameplay trailer. The new motion looks absolutely insane, and the smoothness of the animations depends on the new Hypermotion V technology contributing to this.
Some players love to perform trick moves, but some players also really hate being destroyed by skill moves in the game. If you can be familiar with and memorize the skills of each skill action, the game experience will be improved to a higher level. Because good skill moves can completely change the gameplay as they make the attacker unpredictable. However, some players have also pointed out that some skills are too powerful, even if they know the opponent's plan, the player cannot defend, which makes them feel very distressed.
Players with 5-star skills will become very expensive again in Ultimate Team. One of them is Vinicius Jr., who shows off two of five new abilities in the trailer.
In the trailer, the first skill move is performed by Dortmund's Youssoufa Moukoko. Players can see that Mukoko dribbles with the ball, then rolls the ball inside with his right foot, and then drags it back with his left foot. The animation takes a relatively long time but can achieve a similar effect to the rolling tackle, one of the best skill moves in FIFA 23.
For the second skill action, if the player needs a 5-star skill player, although this move does not have a real effect, it can actually humiliate the opponent. Don't forget afterwards though, a new Shushhh celebration must be used. Elsewhere in the trailer, Vinicius Jr. bounces the ball upwards like a rainbow flick, but in the middle of the action, the ball skips his opponent because he kicks it. Looks great, but players have suggested that this ability is a bit of useless artistry.
When players want to quickly get rid of the opponent's pressure, the third skill action is necessary, that is, the one-touch action, which may require a three-star skill player. The player steps on the ball and pretends to move his body to the left, then brings the ball to the right. It should be noted that this skill probably only works when catching the ball.
The fourth skill move will be the most effective one so far. The bouncy ball extends out to the outside and Pooh cuts through both defenders. This technique becomes especially useful when the opponent calls a second defender to double-team by pressing R1. Here, the player also needs a 5-star skill user to perform this action, otherwise, it will be challenging to complete this skill.
The last new ability is Brutal Nutmeg. Here, it's all about embarrassing your opponent. While it remains to be seen how many star skills will be required, predictions are for 2 or 3-star skills.



Habib: I'm very satisfied, thanks FIFACOIN.COM. And I highly recommend this website if you want to get fc 24 coins or players.

The customer has bought:

FC 24 Coins

2023/12/03




Jason: Order ID: 3009xxxx. Have ordered many times from fifacoin and was satisfied with the delivery every single time. The withdrawal is very fast and safe, so it is the best place to get your fc coins.

The customer has bought:

FC 24 Coins

202

3

/

12/03




Alsaket: I was surprised at how easy and flexible it was for me to buy FC 24 coins at such a great price! Definitely recommend.

The customer has bought:

FC 24 Coins

202

3

/

12/03




Bartosz: I've been using FIFACOIN for my FIFA Coins needs, and I have to say it's the best one out there. Their service is incredibly reliable, with lightning-fast delivery of coins, so I've never had any issues with transactions. Otherwise, their customer service is top-notch, always ready to assist when needed. What sets FIFACOIN apart is their competitive pricing, whether you're a casual player or a serious FIFA enthusiast, I highly recommend FIFACOIN for all your coin needs.

The customer has bought:

FC 24 Coins

202

3

/

12/03




Gonzalez: I used this coin site many times. And I have to say my coins and players came to my account about 30 mins, absolutely amazing service. I would 100% recommend buying from them.

The customer has bought:

FC 24 Coins

202

3

/

12/04




Phillip: They have good customer service and I love the site! I will forever buy from FIFACOIN, very safe and fast. I even buy FC players from them, very proud that I'm a VIP customer.

The customer has bought:

FC 24 Coins

202

3

/

12/04




David: First of all you are not doing anything, you just wait for the coins to come to your account. They make the delivery easy and fast. The most important one is they are trustable.

The customer has bought:

FC 24 Coins

202

3

/

12/04




SameR: The best in the business. I tried this site yesterday night for the first time and they did an excellent service, I got my coins and players without any problems. Thank you FIFACOIN.

The customer has bought:

FC 24 Coins

202

3

/

12/04




Mickle: Was sceptical like many people but it worked exactly as promised. Especially the boosting! FIFACOIN customer service was responsive too. Will use again!

The customer has bought:

FC 24 Boosting

202

3

/

12/05




Alfaro: FIFACOIN is the safest website! I bought fc 24 coins and received it in under a hour. And then try the boosting, it is so fantastic! Definitely buy from here again.

The customer has bought:

FC 24 Boosting

202

3

/

12/05




Shukla: Great service and orders were completed very fast. Bought the boosting from them twice and the steps was easy.

The customer has bought:

FC 24 Boosting

202

3

/

12/05




Connkr: Very professional and helpful Thanks for your service in helping me out every step of the way. Whatever coins or boosting, they have really cheap prices and very nice and patient people.

The customer has bought:

FC 24 Boosting

202

3

/

12/05