FIFA 24: Some Of The Best Iconic Players In EA FC 24
2023-09-18 06:46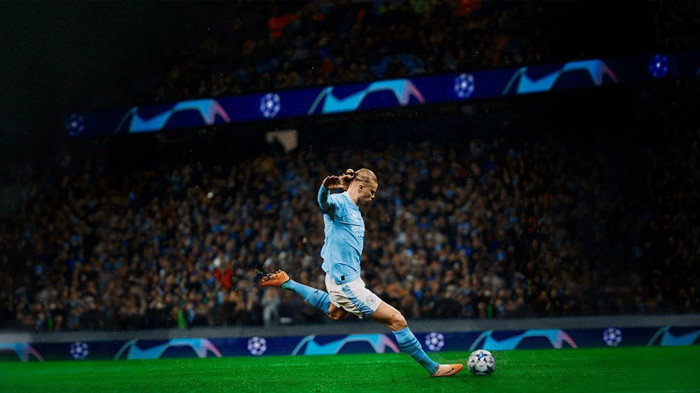 EA FC 24 is almost here, and the reveal of official FC 24 player ratings marks a new beginning for the EA FC game.
It's been a transformational year for PSG, having undergone some big changes this summer, with Lionel Messi in Miami and Neymar heading to Saudi Arabia. That leaves PSG's famous front three with only Kylian Mbappe, but it's possible he could join Real Madrid next year.
As a result, PSG had to restructure in a few different ways, but fans still consider them to be one of the best teams in the world.
Kylian Mbappe (91 OVR)
One of the cover stars of the FIFA series, Mbappe holds the joint-highest rating, as does EA FC 24. He is also the fastest player in the game, with a massive acceleration and sprint speed of 97.
Marquinhos (87 OVR)
As the backbone of Paris Saint-Germain's defense, this will continue this year. With 90 defensive awareness and 89 interceptions, as well as 89 jumps and 84 short passes, he is an excellent central defender in all aspects.
Gianluigi Donnarumma (87 OVR)
The Italian giant is unparalleled at stopping shots. He had 90 saves and 89 reactions.
Turning your attention now to the Argentina national team in FC 24, they went from World Cup-winning heroes to defending champions in 2026.
Lionel Messi (90 OVR)
Messi tops the list and fans call him the King of Argentina! Rated 90, he still has a usable card following his move to MLS. He has the highest dribbling ability in the game and other amazing statistics.
Lautaro Martinez (87 OVR)
Inter Milan star Martinez is now rated 87 and is a clinical finisher. Technically he is the second-best Argentinian player in FC 24! A stunning card, don't miss it!
Paulo Dybala (86 OVR)
Paulo Dybala is an excellent playmaker and scorer who has an 86 rating after an excellent first season at Roma. He had a stellar performance of 85 shots, 85 passes, and a whopping 90 dribbles in FC 24!
It was a pretty good season for Manchester United last year, and while they are currently in the top three, their players have also received a huge improvement in EA FC 24!
Casemiro (89 OVR)
Casemiro came to save Manchester United last season and received the highest rating in the team. Although there are no big changes compared to last year, Casemiro is still the strongest member of Manchester United's midfield.
Bruno Fernandes (88 OVR)
New captain Bruno's score increased by +2 compared to last year. Taking on the role of captain is a huge responsibility. Bruno has already demonstrated his strong leadership skills during his time at Old Trafford.
Raphael Varane (85 OVR)
Varane's increase was a small +1, which should have been more. Taking into account his absence due to injury, the defense has also become less strong.
Player ratings are constantly being updated, please stay tuned for the latest official updates and prepare your team in advance!



Habib: I'm very satisfied, thanks FIFACOIN.COM. And I highly recommend this website if you want to get fc 24 coins or players.

The customer has bought:

FC 24 Coins

2023/12/03




Jason: Order ID: 3009xxxx. Have ordered many times from fifacoin and was satisfied with the delivery every single time. The withdrawal is very fast and safe, so it is the best place to get your fc coins.

The customer has bought:

FC 24 Coins

202

3

/

12/03




Alsaket: I was surprised at how easy and flexible it was for me to buy FC 24 coins at such a great price! Definitely recommend.

The customer has bought:

FC 24 Coins

202

3

/

12/03




Bartosz: I've been using FIFACOIN for my FIFA Coins needs, and I have to say it's the best one out there. Their service is incredibly reliable, with lightning-fast delivery of coins, so I've never had any issues with transactions. Otherwise, their customer service is top-notch, always ready to assist when needed. What sets FIFACOIN apart is their competitive pricing, whether you're a casual player or a serious FIFA enthusiast, I highly recommend FIFACOIN for all your coin needs.

The customer has bought:

FC 24 Coins

202

3

/

12/03




Gonzalez: I used this coin site many times. And I have to say my coins and players came to my account about 30 mins, absolutely amazing service. I would 100% recommend buying from them.

The customer has bought:

FC 24 Coins

202

3

/

12/04




Phillip: They have good customer service and I love the site! I will forever buy from FIFACOIN, very safe and fast. I even buy FC players from them, very proud that I'm a VIP customer.

The customer has bought:

FC 24 Coins

202

3

/

12/04




David: First of all you are not doing anything, you just wait for the coins to come to your account. They make the delivery easy and fast. The most important one is they are trustable.

The customer has bought:

FC 24 Coins

202

3

/

12/04




SameR: The best in the business. I tried this site yesterday night for the first time and they did an excellent service, I got my coins and players without any problems. Thank you FIFACOIN.

The customer has bought:

FC 24 Coins

202

3

/

12/04




Mickle: Was sceptical like many people but it worked exactly as promised. Especially the boosting! FIFACOIN customer service was responsive too. Will use again!

The customer has bought:

FC 24 Boosting

202

3

/

12/05




Alfaro: FIFACOIN is the safest website! I bought fc 24 coins and received it in under a hour. And then try the boosting, it is so fantastic! Definitely buy from here again.

The customer has bought:

FC 24 Boosting

202

3

/

12/05




Shukla: Great service and orders were completed very fast. Bought the boosting from them twice and the steps was easy.

The customer has bought:

FC 24 Boosting

202

3

/

12/05




Connkr: Very professional and helpful Thanks for your service in helping me out every step of the way. Whatever coins or boosting, they have really cheap prices and very nice and patient people.

The customer has bought:

FC 24 Boosting

202

3

/

12/05