FIFA 24: How To Form And Manage Your Own Team In The Career Mode Of EA FC 24?
2023-09-06 09:40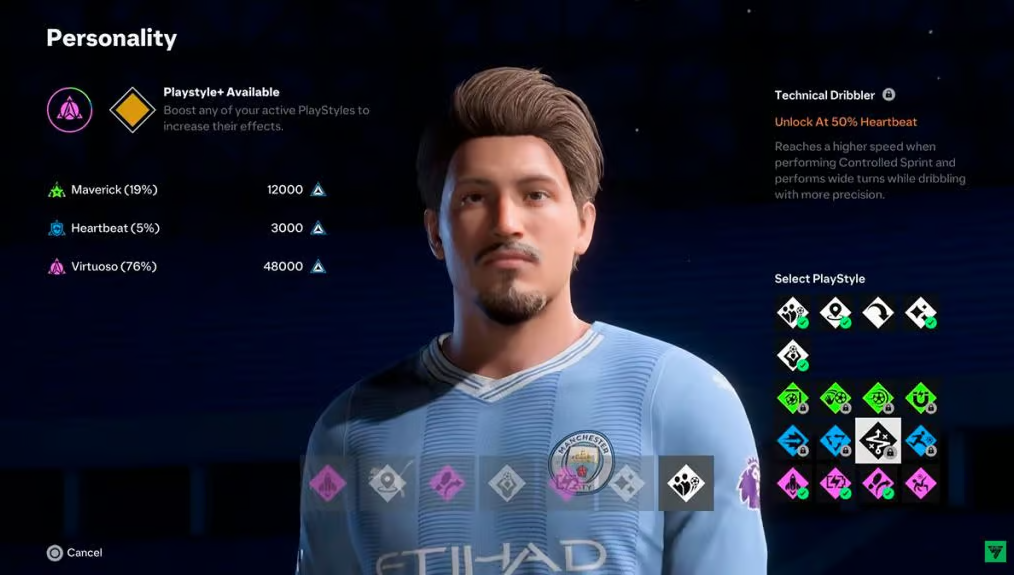 EA Sports FC 24 is coming and Career Mode is the most anticipated season of any season, but this year's looks to be the most exciting release yet! Because this time not only with the help of the training plan, but also with new features such as the coaching team, players can make their career mode as unique as ever.
In addition to the new features in the game mode, other popular content will also be transferred from FIFA to EA FC 24 at one time, so that players will not leave any regrets. A tutorial on how to create and manage your own club in EA FC 24 Career Mode is essential for those new to the season or for the first time.
Create Clubs is a new addition to Career Mode, allowing players to add their own custom football clubs to any league of their choice. In addition, players can also assign their own clubs with rival clubs and give them their own unique identities and the permissions of players are not limited to this, which will be displayed in different aspects of the club in the future. This includes your club name, nickname, crest, jersey, and stadium, which players will be able to update at the start of each career mode season, and the great thing about creating a club in career mode is that it's so easy to do!
As far as is known, each customizable option allows for hundreds of different options to make its club as unique as possible. For example, players can choose the rating of the team, so that their team starts at the bottom of the football pyramid, or falls into the Champions League.
Players who launch the game after the September 29 launch can go straight to the Career Mode game mode, select "Create Your Club" and start from scratch! When everything is ready for you, the football world is at your disposal, and players can sign any big star they want.
Another game mode called "Club" is the perfect option for players who want to try their hand at building a club with friends.
After the establishment is complete, can players manage their clubs and national teams well?
In the past, it was rare to see a football head coach in charge of both domestic clubs and international football teams. While some big names have done this before, such as Sir Alex Ferguson, one of the last modern managers to hold club and country roles, this was almost 40 years ago. Moreover, the Scottish legend also coached the Aberdeen team before joining Manchester United, but unfortunately, in the end, he failed and was eliminated by Austria in the World Cup play-offs.
But in EA Sports FC 24, players can still try to manage clubs and countries in career mode. It's also fairly simple to operate, which has been a feature in FIFA for years. When loading into a career mode save, players will see a menu with options for race difficulty, half length, etc., but look for the option called "International Job Opportunities" if you wish to keep it enabled, this action will In order to receive international job offers during career mode saves.
So how to manage the best nation in EA FC 24 career mode? Players can earn international job offers based on their performance during career mode saves, and better national team opportunities as they build their reputation in club-level management. And every player has the ability to accept or reject an offer, so if you don't believe the national team is right for you, take the job!



Habib: I'm very satisfied, thanks FIFACOIN.COM. And I highly recommend this website if you want to get fc 24 coins or players.

The customer has bought:

FC 24 Coins

2023/12/03




Jason: Order ID: 3009xxxx. Have ordered many times from fifacoin and was satisfied with the delivery every single time. The withdrawal is very fast and safe, so it is the best place to get your fc coins.

The customer has bought:

FC 24 Coins

202

3

/

12/03




Alsaket: I was surprised at how easy and flexible it was for me to buy FC 24 coins at such a great price! Definitely recommend.

The customer has bought:

FC 24 Coins

202

3

/

12/03




Bartosz: I've been using FIFACOIN for my FIFA Coins needs, and I have to say it's the best one out there. Their service is incredibly reliable, with lightning-fast delivery of coins, so I've never had any issues with transactions. Otherwise, their customer service is top-notch, always ready to assist when needed. What sets FIFACOIN apart is their competitive pricing, whether you're a casual player or a serious FIFA enthusiast, I highly recommend FIFACOIN for all your coin needs.

The customer has bought:

FC 24 Coins

202

3

/

12/03




Gonzalez: I used this coin site many times. And I have to say my coins and players came to my account about 30 mins, absolutely amazing service. I would 100% recommend buying from them.

The customer has bought:

FC 24 Coins

202

3

/

12/04




Phillip: They have good customer service and I love the site! I will forever buy from FIFACOIN, very safe and fast. I even buy FC players from them, very proud that I'm a VIP customer.

The customer has bought:

FC 24 Coins

202

3

/

12/04




David: First of all you are not doing anything, you just wait for the coins to come to your account. They make the delivery easy and fast. The most important one is they are trustable.

The customer has bought:

FC 24 Coins

202

3

/

12/04




SameR: The best in the business. I tried this site yesterday night for the first time and they did an excellent service, I got my coins and players without any problems. Thank you FIFACOIN.

The customer has bought:

FC 24 Coins

202

3

/

12/04




Mickle: Was sceptical like many people but it worked exactly as promised. Especially the boosting! FIFACOIN customer service was responsive too. Will use again!

The customer has bought:

FC 24 Boosting

202

3

/

12/05




Alfaro: FIFACOIN is the safest website! I bought fc 24 coins and received it in under a hour. And then try the boosting, it is so fantastic! Definitely buy from here again.

The customer has bought:

FC 24 Boosting

202

3

/

12/05




Shukla: Great service and orders were completed very fast. Bought the boosting from them twice and the steps was easy.

The customer has bought:

FC 24 Boosting

202

3

/

12/05




Connkr: Very professional and helpful Thanks for your service in helping me out every step of the way. Whatever coins or boosting, they have really cheap prices and very nice and patient people.

The customer has bought:

FC 24 Boosting

202

3

/

12/05