FIFA 24: Brand New Celebrations Coming In EA FC 24
2023-08-21 06:38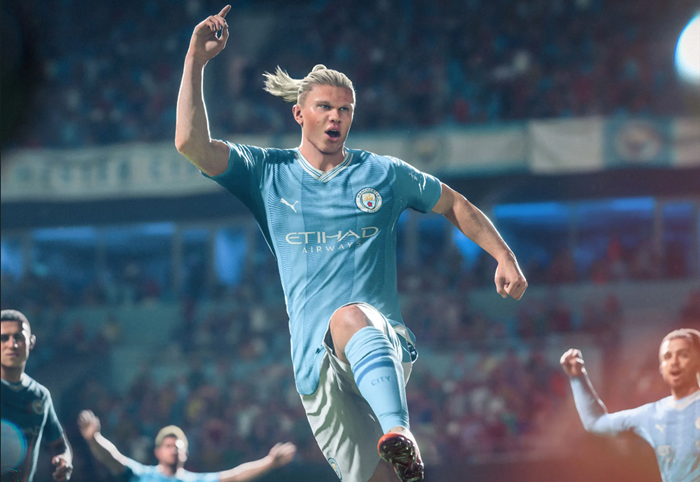 EA FC 24 is on the way, and the game will launch a series of features that are simply exciting. At present, the official also provides players with the opportunity to test new features. One such feature is the new Celebrations, where EA has added a bunch of new ways to taunt opponents.
Every year, football's stars battle it out to put on some of the best celebrations of the season, and they're always looking for ways to celebrate their players' celebrations. These celebrations are then carried over to the next football game, and EA took this reality and added some new celebrations in EA FC 24. Not only are there many iconic celebrations, but there are also some wacky new ones to keep you entertained. For example, flying like a bird, many players have this iconic celebration this year, and Cristiano Ronaldo has also added a new iconic celebration.
One catch, though, is that goal celebrations in EA FC 24 can only take place after an actual goal has been scored. When everything falls into place, players can perform their favorite celebrations in-game. The method for implementing all new celebrations is as follows:
Faking It - L2/LT + R3
During the celebration, the goalscorer simulated a leg cramp before walking normally again, supported by his teammates. Players perform this celebration by holding down the L2 button while flicking the R3 stick left twice.
Bye - L1/LB + R3
Players will perform a small dance with a teammate, and then perform a goodbye ceremony with that teammate. Hugs later, while more and more players join in the celebration. Press L1 and R3 at the same time and you're done.
Rock On - L2/LT + R3
Players after a goal would run for a while before pausing to take photos with teammates while making the "horn sign," a gesture typical of fans of metal and hard rock. A third player will join and hug both players. Players can do this by pressing L2 and R3 simultaneously.
Workout - L2/LT + Square/X
To perform this celebration, players simply stop running, stand still, and close their eyes. Then go to sleep and put your head down. Team-mates would surround him and celebrate his goals. Do this by holding down L2 and pressing the square action button.
All Ears - L1 + Triangle/Y
Stand still and cover your ears with your open hands. Show them you're the best candidate by pressing the triangular action button while holding down L1.
In addition to all of the festivities listed above and below, players will also be able to participate in autograph festivities with applicable players.
Like Ronaldo's signature celebration, don't forget to scream "SIIUUU" when the player performs this move while dueling with their friends. Just press the X action button after scoring a goal with Ronaldo to get his autograph. Also in EA FC 24, you can celebrate his "penguin walk" by pressing the X button after scoring with French star striker Antoine Griezmann.
That's a look at some of the new goal celebrations that are currently known for EA Sports FC 24, looking forward to more new features or changes!



Habib: I'm very satisfied, thanks FIFACOIN.COM. And I highly recommend this website if you want to get fc 24 coins or players.

The customer has bought:

FC 24 Coins

2023/12/03




Jason: Order ID: 3009xxxx. Have ordered many times from fifacoin and was satisfied with the delivery every single time. The withdrawal is very fast and safe, so it is the best place to get your fc coins.

The customer has bought:

FC 24 Coins

202

3

/

12/03




Alsaket: I was surprised at how easy and flexible it was for me to buy FC 24 coins at such a great price! Definitely recommend.

The customer has bought:

FC 24 Coins

202

3

/

12/03




Bartosz: I've been using FIFACOIN for my FIFA Coins needs, and I have to say it's the best one out there. Their service is incredibly reliable, with lightning-fast delivery of coins, so I've never had any issues with transactions. Otherwise, their customer service is top-notch, always ready to assist when needed. What sets FIFACOIN apart is their competitive pricing, whether you're a casual player or a serious FIFA enthusiast, I highly recommend FIFACOIN for all your coin needs.

The customer has bought:

FC 24 Coins

202

3

/

12/03




Gonzalez: I used this coin site many times. And I have to say my coins and players came to my account about 30 mins, absolutely amazing service. I would 100% recommend buying from them.

The customer has bought:

FC 24 Coins

202

3

/

12/04




Phillip: They have good customer service and I love the site! I will forever buy from FIFACOIN, very safe and fast. I even buy FC players from them, very proud that I'm a VIP customer.

The customer has bought:

FC 24 Coins

202

3

/

12/04




David: First of all you are not doing anything, you just wait for the coins to come to your account. They make the delivery easy and fast. The most important one is they are trustable.

The customer has bought:

FC 24 Coins

202

3

/

12/04




SameR: The best in the business. I tried this site yesterday night for the first time and they did an excellent service, I got my coins and players without any problems. Thank you FIFACOIN.

The customer has bought:

FC 24 Coins

202

3

/

12/04




Mickle: Was sceptical like many people but it worked exactly as promised. Especially the boosting! FIFACOIN customer service was responsive too. Will use again!

The customer has bought:

FC 24 Boosting

202

3

/

12/05




Alfaro: FIFACOIN is the safest website! I bought fc 24 coins and received it in under a hour. And then try the boosting, it is so fantastic! Definitely buy from here again.

The customer has bought:

FC 24 Boosting

202

3

/

12/05




Shukla: Great service and orders were completed very fast. Bought the boosting from them twice and the steps was easy.

The customer has bought:

FC 24 Boosting

202

3

/

12/05




Connkr: Very professional and helpful Thanks for your service in helping me out every step of the way. Whatever coins or boosting, they have really cheap prices and very nice and patient people.

The customer has bought:

FC 24 Boosting

202

3

/

12/05