FIFA 24: Dimitar Berbatov and Steve McManaman were added into EA FC 24 as Heroes!
2023-08-01 03:56
With the imminent release of EA FC 24, players' emotions are running high. Now everyone has received a new piece of information, that is, the EA FC pre-release stage has introduced a new player card.
What is known so far is that Berbatov joined EA FC 24 as a hero card. And Berbatov is a legend whose presence on the virtual pitch is sure to inspire nostalgia and admiration among players. A player "the streets never forget", he left a lasting impact on football lovers around the world. So for FIFA players, it's an exciting time for iconic player Berbatov to return to action.
The unique skill he possesses is the first touch, an ability that has wowed spectators throughout his illustrious career. He is also known for his throwback Premier League goals, showing his skill and artistry on the pitch. So there are many memorable moments in his player days, and now they can relive these moments in the virtual world of FIFA.
So what will Berbatov's rating be at EA FC 24? Prior to this, Berbatov's last appearance in FIFA was as an 80-point gold card when he played for PAOK. But if he returns to EA FC 24 Heroes, his rating should improve to 88 to start his FIFA journey. Players will then also be able to use the enhanced version of the football legend in Ultimate Team. Players will also relive the football glory moments that Berbatov is famous for!
In addition, Steve McManaman will also join EA FC 24 as a hero! Steven McManaman joins EA FC 24 with an 89-point hero card as a current co-commentator for ESPN and BT Sports. In McManaman's career, he played a total of 364 games, not only in Liverpool, but also had a good time at Real Madrid and Manchester City. His EA FC 24 hero card is rated 89, though EA Sports has yet to confirm his place in the game.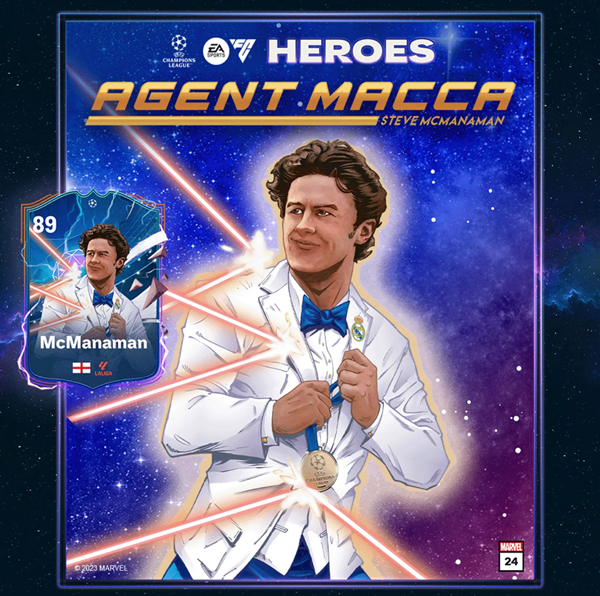 Notable, because he will be a La Liga hero despite playing more games at Liverpool than Real Madrid. This may be due to the fact that McManaman has won eight trophies with Real Madrid and only two with Liverpool.



Habib: I'm very satisfied, thanks FIFACOIN.COM. And I highly recommend this website if you want to get fc 24 coins or players.

The customer has bought:

FC 24 Coins

2023/12/03




Jason: Order ID: 3009xxxx. Have ordered many times from fifacoin and was satisfied with the delivery every single time. The withdrawal is very fast and safe, so it is the best place to get your fc coins.

The customer has bought:

FC 24 Coins

202

3

/

12/03




Alsaket: I was surprised at how easy and flexible it was for me to buy FC 24 coins at such a great price! Definitely recommend.

The customer has bought:

FC 24 Coins

202

3

/

12/03




Bartosz: I've been using FIFACOIN for my FIFA Coins needs, and I have to say it's the best one out there. Their service is incredibly reliable, with lightning-fast delivery of coins, so I've never had any issues with transactions. Otherwise, their customer service is top-notch, always ready to assist when needed. What sets FIFACOIN apart is their competitive pricing, whether you're a casual player or a serious FIFA enthusiast, I highly recommend FIFACOIN for all your coin needs.

The customer has bought:

FC 24 Coins

202

3

/

12/03




Gonzalez: I used this coin site many times. And I have to say my coins and players came to my account about 30 mins, absolutely amazing service. I would 100% recommend buying from them.

The customer has bought:

FC 24 Coins

202

3

/

12/04




Phillip: They have good customer service and I love the site! I will forever buy from FIFACOIN, very safe and fast. I even buy FC players from them, very proud that I'm a VIP customer.

The customer has bought:

FC 24 Coins

202

3

/

12/04




David: First of all you are not doing anything, you just wait for the coins to come to your account. They make the delivery easy and fast. The most important one is they are trustable.

The customer has bought:

FC 24 Coins

202

3

/

12/04




SameR: The best in the business. I tried this site yesterday night for the first time and they did an excellent service, I got my coins and players without any problems. Thank you FIFACOIN.

The customer has bought:

FC 24 Coins

202

3

/

12/04




Mickle: Was sceptical like many people but it worked exactly as promised. Especially the boosting! FIFACOIN customer service was responsive too. Will use again!

The customer has bought:

FC 24 Boosting

202

3

/

12/05




Alfaro: FIFACOIN is the safest website! I bought fc 24 coins and received it in under a hour. And then try the boosting, it is so fantastic! Definitely buy from here again.

The customer has bought:

FC 24 Boosting

202

3

/

12/05




Shukla: Great service and orders were completed very fast. Bought the boosting from them twice and the steps was easy.

The customer has bought:

FC 24 Boosting

202

3

/

12/05




Connkr: Very professional and helpful Thanks for your service in helping me out every step of the way. Whatever coins or boosting, they have really cheap prices and very nice and patient people.

The customer has bought:

FC 24 Boosting

202

3

/

12/05