FIFA 21: INSANE FUTTIES New Transfer SBC arrives for PSG superstar Lionel Messi
2021-08-20 05:58
The best card of the FUTTIES event has just been released with none other than Lionel Messi now available to unlock.The new card won't come cheap, but who cares when it's rated 99 OVR! Take a look at the incredible new card and how to unlock it below.
FUTTIES
The FUTTIES event has returned to Ultimate Team this season, bringing back some of the best cards from the FIFA 21 Ultimate Team cycle.Batch 3 is currently available in packs, with a further two sets of players still to return.EA has also released plenty of SBC and Objectives cards in the promo and that trend looks set to continue with lots of community-themed content.With loads more cards to come and top-rated players becoming increasingly available, this is the perfect time to strengthen your Ultimate Team.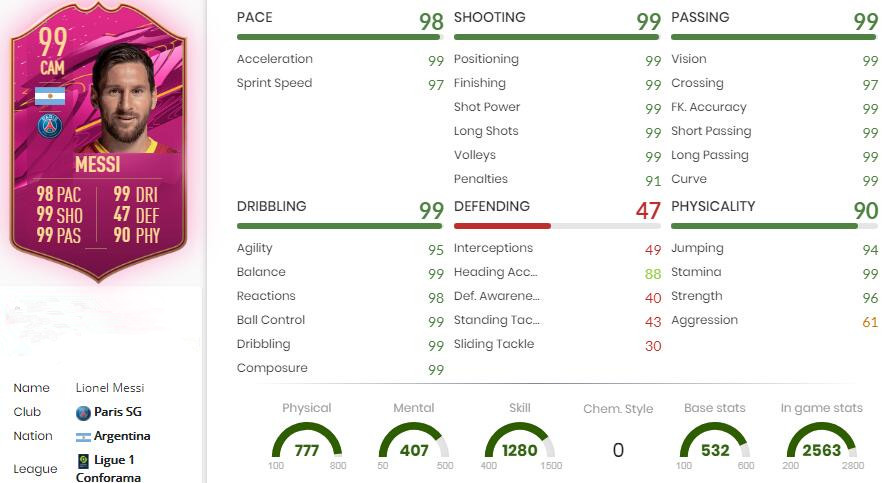 Lionel Messi (OVR 99)
Start Date: Thursday, 19 August
Expiry Date: Thursday, 30 September
SBC Requirements
There are ten different squads needed to unlock Messi's new FUTTIES SBC card.
The requirements are as follows:
Ici C'est Paris
Minimum one PSG player
Minimum 85 Team Rating
Minimum 80 Team Chemistry
1 x Premium Gold Jumbo Pack
Argentina
Minimum one Argentina player
Minimum one Team of the Week or Team of the Season player
Minimum 86 Team Rating
Minimum 75 Team Chemistry
1 x Prime Electrum Players Pack
Ligue 1
Minimum one Ligue 1 player
Minimum one Team of the Week or Team of the Season player
Minimum 87 Team Rating
Minimum 65 Team Chemistry
1 x Prime Mixed Players Pack
Top Form
Minimum one Team of the Week or Team of the Season player
Minimum 87 Team Rating
Minimum 65 Team Chemistry
1 x Small Rare Gold Players Pack
88-Rated Squad
Minimum one Team of the Week or Team of the Season player
Minimum 88 Team Rating
Minimum 60 Team Chemistry
89-Rated Squad
Minimum one Team of the Week or Team of the Season player
Minimum 89 Team Rating
Minimum 55 Team Chemistry
1 x Rare Gold Pack
90-Rated Squad
Minimum 90 Team Rating
Minimum 40 Team Chemistry
1 x Rare Electrum Players Pack
90-Rated Squad
Minimum 90 Team Rating
Minimum 40 Team Chemistry
1 x Mega Pack
91-Rated Squad
Minimum 91 Team Rating
Minimum 30 Team Chemistry
1 x Prime Gold Players Pack
88-Rated Squad
Minimum one Team of the Week or Team of the Season player
Minimum 88 Team Rating
Minimum 60 Team Chemistry
1 x Gold Premium Players Pack
Estimated Cost – 1.4 million



Alessio: With my latest order ID 3006XXX. I was very satisfied with my purchase, the delivery was fast, the website offers excellent services and it is very safe and reliable. I advise!

The customer has bought:

FC 24 Coins

2023/11/10




Caterino: Great service. The speed of delivery is within 30 minutes.

The customer has bought:

FC 24 Coins

202

3

/

11/10




Raul: I want to say that the coins have been transferred to the account so quickly and the price was also great!

The customer has bought:

FC 24 Coins

202

3

/

11/10




Combs: I didn't know that my transfer market was not open yet, so I couldn't send my details to them at the beginning, but they did not have any complaints and just waited for me until my market opened. So I'm very sorry for that and thank u all of u guys.

The customer has bought:

FC 24 Coins

202

3

/

11/10




Eric: I am very happy with the service! I received all 1m coins and players within an hour of placing my order. No issues, I will purchase again soon!

The customer has bought:

FC 24 Players

202

3

/

11/11




Najeeb: I can't believe this, how cheap players are amazing. And how fast it delivers, 5 stars for this and the company 10/10!

The customer has bought:

FC 24 Players

202

3

/

11/11




Zaman: Was a bit skeptical at first but it is 100% legit and reliable. Very satisfied and will definitely use FIFACOIN to purchase players again.

The customer has bought:

FC 24 Players

202

3

/

11/11




Gilbert: Have been using FIFACOIN for several years and have never had a problem. A few mistakes on my end every now and then their customer service is quick and fair.

The customer has bought:

FC 24 Players

202

3

/

11/11




Pendrey: Loved everything the support and safety! I will buy more coins or boosting.

The customer has bought:

FC 24 Boosting

202

3

/

11/12




Jesssidy: Very easy and simple after I try boosting! It obviously works and I'm excited.

The customer has bought:

FC 24 Boosting

202

3

/

11/12




Konteh: First time purchasing boosting, I am really happy with how fast and safe fifacoin.com was, will definitely use it again in the future.

The customer has bought:

FC 24 Boosting

202

3

/

11/12




Vinicius: If you are looking for a cheap boosting service then look no further, I have personally used this site for both coins and boosting and had no issues.

The customer has bought:

FC 24 Boosting

202

3

/

11/12