FIFA 24: EA FC 24 Confirms FUT Will Cover Women Teams
2023-08-14 08:26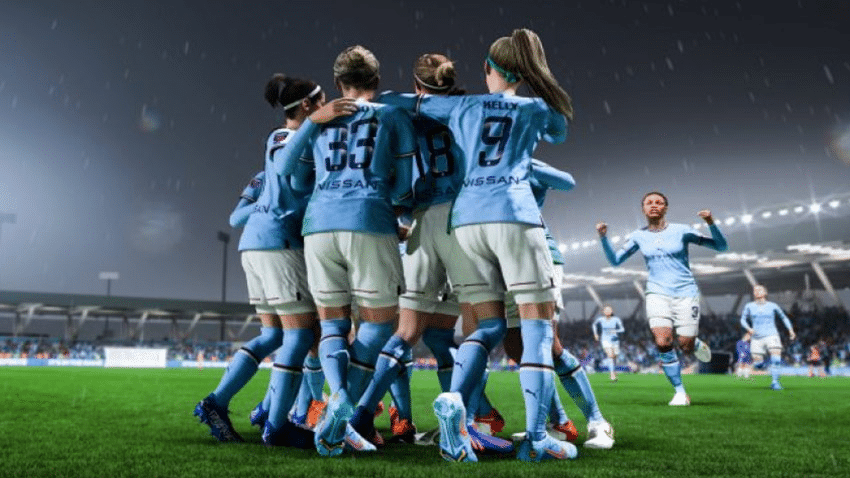 After FIFA 23 became the last game of its kind launched by EA, the news about the new version of FC 24 is constantly being updated. The current trailer and cover have been released, and the content can confirm that players can see it in Ultimate Team. Women and men compete together, playing against female players in the most popular game modes.
At the same time, this season will not only have a new online career mode, but also a revised transfer market, new heroes and icons, and dynamic packs.
In previous season update periods, many players have put forward suggestions about female players, so EA has continuously invested resources in virtual women's football, adding more leagues and players to the game. In FIFA23, Sam Kerr is part of the cover. Players can also look forward to the debut of the new game La Liga F in September.
In the FC 24 trailer, Marta and the likes of Sam Cole can be seen walking the pitch alongside Erling Haaland, Vinicius Jr. and others. EA says in the trailer:
It dares us to take risks and we back those who do the same. All you've gotta do is play. That's what brings us closer. Closer to each other. And closer to The World's Game. that though. You're part of this. Always have been. And you're in good company. Welcome to the club.
The paragraph above is a clear rebuttal to ignorant people who claim that women have no place in football. FIFA is a long-running game, and EA should be commended for its courage in breaking old structures and dabbling in new things. One thing's for sure: With EA FC 24, women's soccer will gain a whole new level of attention around the world, and the various ways women can be part of Ultimate Team.
A Women's Champions League and new teams have been introduced in FIFA 23. Ultimate Team mode for women is a completely conceivable, fair, and welcome change. At that time, EA decided to support men and women to play together instead of providing a separate FUT mode for women. Considering that players may have little or no experience in experiencing women's UT mode before, this is one of the reasons. Moreover, if the developer wants to write another pattern, it also requires a lot of effort. But things are different now, it's the Women's Ultimate Team. For the most part, women's football plays in the same league structure as men's football, and they also share the same nationality. Therefore, it is not a difficult task and complicated game operation to form a female and male team into an ultimate team. Women and men give each other chemistry points by their country. The same is true of a nation's league, with teams like Bayern Munich or Wolfsburg that play in both divisions enjoying improved chemistry.
In this way, female players have a stage of their own, which increases their popularity in society. The best female player in the world deserves the same rating as the best player in men's football, also in case of a one-sided meta like FIFA 23, where you'll be playing against Mbappe and Ronaldo in every game of the weekend league Aldinho.
Two female players are currently known to receive special cards in EA FC 24: American player Mia Hamm will be released as an idol, and British player Alex Scott Will be released as a hero.
Let women be an important part of this game, then the creativity in this game will be unlimited.



Habib: I'm very satisfied, thanks FIFACOIN.COM. And I highly recommend this website if you want to get fc 24 coins or players.

The customer has bought:

FC 24 Coins

2023/12/03




Jason: Order ID: 3009xxxx. Have ordered many times from fifacoin and was satisfied with the delivery every single time. The withdrawal is very fast and safe, so it is the best place to get your fc coins.

The customer has bought:

FC 24 Coins

202

3

/

12/03




Alsaket: I was surprised at how easy and flexible it was for me to buy FC 24 coins at such a great price! Definitely recommend.

The customer has bought:

FC 24 Coins

202

3

/

12/03




Bartosz: I've been using FIFACOIN for my FIFA Coins needs, and I have to say it's the best one out there. Their service is incredibly reliable, with lightning-fast delivery of coins, so I've never had any issues with transactions. Otherwise, their customer service is top-notch, always ready to assist when needed. What sets FIFACOIN apart is their competitive pricing, whether you're a casual player or a serious FIFA enthusiast, I highly recommend FIFACOIN for all your coin needs.

The customer has bought:

FC 24 Coins

202

3

/

12/03




Gonzalez: I used this coin site many times. And I have to say my coins and players came to my account about 30 mins, absolutely amazing service. I would 100% recommend buying from them.

The customer has bought:

FC 24 Coins

202

3

/

12/04




Phillip: They have good customer service and I love the site! I will forever buy from FIFACOIN, very safe and fast. I even buy FC players from them, very proud that I'm a VIP customer.

The customer has bought:

FC 24 Coins

202

3

/

12/04




David: First of all you are not doing anything, you just wait for the coins to come to your account. They make the delivery easy and fast. The most important one is they are trustable.

The customer has bought:

FC 24 Coins

202

3

/

12/04




SameR: The best in the business. I tried this site yesterday night for the first time and they did an excellent service, I got my coins and players without any problems. Thank you FIFACOIN.

The customer has bought:

FC 24 Coins

202

3

/

12/04




Mickle: Was sceptical like many people but it worked exactly as promised. Especially the boosting! FIFACOIN customer service was responsive too. Will use again!

The customer has bought:

FC 24 Boosting

202

3

/

12/05




Alfaro: FIFACOIN is the safest website! I bought fc 24 coins and received it in under a hour. And then try the boosting, it is so fantastic! Definitely buy from here again.

The customer has bought:

FC 24 Boosting

202

3

/

12/05




Shukla: Great service and orders were completed very fast. Bought the boosting from them twice and the steps was easy.

The customer has bought:

FC 24 Boosting

202

3

/

12/05




Connkr: Very professional and helpful Thanks for your service in helping me out every step of the way. Whatever coins or boosting, they have really cheap prices and very nice and patient people.

The customer has bought:

FC 24 Boosting

202

3

/

12/05