FIFA 24: More Pro Club Information On EA Sports FC 24 (Cross-platform Play, Nintendo Switch...)
2023-09-11 08:13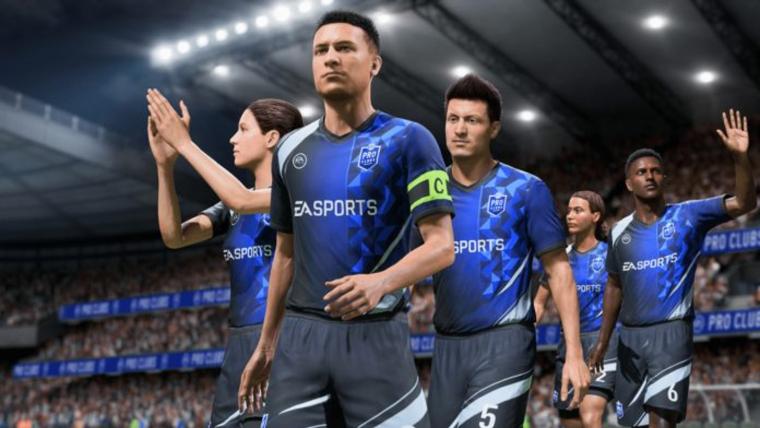 Pro Club, as one of the most popular game modes in the FIFA series, has also received a lot of attention from players in FC 24, and in this update, it will also receive more attention from the mode name to the club competitive schedule structure. Name change and various new features.
Fans of the EA Sports 11 v 11 game mode have been clamoring for major changes to the games, but only minor tweaks have been made every year. The ultimate team and career mode have always been the focus of EA, and this year it will finally undergo the largest update in its history.
For example, the official redesigned the club experience before its release. The traditional experience will be completely replaced by a new experience. Players will feel more valuable than ever in this mode, and there will be more goals to achieve both on and off the court. Efforts to achieve. In the past, after entering the first league in the pro club season mode, it was enough to win the championship, but in "FC 24", the player's club needs to constantly fight to establish its status and reputation.
The rebranding of FC 24 and Volta GraphicPro is significant. With FC 24, the company has finally parted ways with FIFA's governing body and its games will no longer be called "FIFA," representing a massive rebranding. EA has built a loyal fan base and a huge brand over previous seasons of the game, making it easy for new and old fans alike to return to the series when FC 24 launches.
While Pro Club now represents the intent of the mode, its original purpose was to allow several friends to play simultaneously for the same team, so the addition of cross-platform play was a big selling point for FIFA games. Players of the series can enjoy playing against friends on different platforms to make the season more competitive, and friends with different consoles or PCs can bond in this mode.
Club teams can be made up of players from up to three different platforms, with lobby moderators simply selecting whether the team chooses to cross-play every game, while club managers are responsible for deciding the team's overall cross-platform status. The current cross-platform game is updated from the previous generation - Xbox One/Playstation 4 to Xbox Series X/S/Playstation 5/PC
In addition to the ability for friends from different platforms to team up, the addition of cross-platform play will also merge leaderboards in Clubs, making the mode more competitive than ever before, but players will still have the option to participate in cross-play. game.
Some players have also raised questions about whether The Club will be coming to Nintendo Switch. However, the Nintendo Switch version of EA Sports games is not very popular compared to other versions, but for some players, this will be convenient because it is their ideal platform. So the Switch is getting a club mode for the first time since FC 24 launched. Unfortunately, there won't be cross-platform play in this version, so players on Nintendo platforms won't be able to connect with players on Xbox, PlayStation, and PC platforms just yet.
Another important part is the update of the new league system. Previously, teams were required to start at level 10 and work their way up to level 1. Promotion, relegation and staying in a certain division have always been possible, but there will be no relegation component in the reorganization of FC 24's club league system, meaning it can replicate the style of Division Rivals in Ultimate Team. Although players will suffer losses, the team will not be relegated.
In addition to this, the league stages for clubs in FC 24 will be a five-week cycle, giving each club enough time to move up as many levels as possible, and players will be rewarded for each promotion. Clubs' final results will earn them a spot in the playoff stage, which will run for a week before the start of next season, with further rewards based on team performance.
Among the new features is that divisional matches in FC 24 will no longer end in a draw, so there will only be two outcomes, win or lose. Every time a match ends in a draw, the two teams go into a tense penalty shootout, but remove the tie, how will that be decided?
This feature may get you through partitions faster, or it may slow you down. But the level of drama and excitement it brings has incredible potential.
Clubs in FC 24 will also see a significant increase in player customization options. Players will have more tattoos, more hairstyles, more facial accessories and boots, and more to set players up to wear in the club.
This style of play will help give players their unique abilities on the court, and players will also enjoy their own, unique aesthetic customization. An enjoyable game mode.



Habib: I'm very satisfied, thanks FIFACOIN.COM. And I highly recommend this website if you want to get fc 24 coins or players.

The customer has bought:

FC 24 Coins

2023/12/03




Jason: Order ID: 3009xxxx. Have ordered many times from fifacoin and was satisfied with the delivery every single time. The withdrawal is very fast and safe, so it is the best place to get your fc coins.

The customer has bought:

FC 24 Coins

202

3

/

12/03




Alsaket: I was surprised at how easy and flexible it was for me to buy FC 24 coins at such a great price! Definitely recommend.

The customer has bought:

FC 24 Coins

202

3

/

12/03




Bartosz: I've been using FIFACOIN for my FIFA Coins needs, and I have to say it's the best one out there. Their service is incredibly reliable, with lightning-fast delivery of coins, so I've never had any issues with transactions. Otherwise, their customer service is top-notch, always ready to assist when needed. What sets FIFACOIN apart is their competitive pricing, whether you're a casual player or a serious FIFA enthusiast, I highly recommend FIFACOIN for all your coin needs.

The customer has bought:

FC 24 Coins

202

3

/

12/03




Gonzalez: I used this coin site many times. And I have to say my coins and players came to my account about 30 mins, absolutely amazing service. I would 100% recommend buying from them.

The customer has bought:

FC 24 Coins

202

3

/

12/04




Phillip: They have good customer service and I love the site! I will forever buy from FIFACOIN, very safe and fast. I even buy FC players from them, very proud that I'm a VIP customer.

The customer has bought:

FC 24 Coins

202

3

/

12/04




David: First of all you are not doing anything, you just wait for the coins to come to your account. They make the delivery easy and fast. The most important one is they are trustable.

The customer has bought:

FC 24 Coins

202

3

/

12/04




SameR: The best in the business. I tried this site yesterday night for the first time and they did an excellent service, I got my coins and players without any problems. Thank you FIFACOIN.

The customer has bought:

FC 24 Coins

202

3

/

12/04




Mickle: Was sceptical like many people but it worked exactly as promised. Especially the boosting! FIFACOIN customer service was responsive too. Will use again!

The customer has bought:

FC 24 Boosting

202

3

/

12/05




Alfaro: FIFACOIN is the safest website! I bought fc 24 coins and received it in under a hour. And then try the boosting, it is so fantastic! Definitely buy from here again.

The customer has bought:

FC 24 Boosting

202

3

/

12/05




Shukla: Great service and orders were completed very fast. Bought the boosting from them twice and the steps was easy.

The customer has bought:

FC 24 Boosting

202

3

/

12/05




Connkr: Very professional and helpful Thanks for your service in helping me out every step of the way. Whatever coins or boosting, they have really cheap prices and very nice and patient people.

The customer has bought:

FC 24 Boosting

202

3

/

12/05